I'm honestly getting real jealous seeing everyone and their brother posting mock expansion drafts for the Seattle Kraken. I'm a draft junkie at heart, which is why I waste time every year on researching college prospects for the NFL draft. I'm going to approach this one a little differently. This is because unlike an entry draft (where anything can happen) or 'nam (there are rules), that only one team is doing the drafting and they have to take little things into consideration like the salary cap (*cough* Tampa Bay *cough*).
Here's how this is going to unfold. First, let's break down which players the Kraken have a "serious interest" in taking. This is from a variety of official and unofficial sources, all of which can be taken with a grain of salt. Second, we are going to look at the no-brainer locks (which of course could change if the team bribes Seattle to take someone else). Third, we are going to talk about the teams that don't have anything useful to offer. Lastly, we are going to examine the real tough choices that are going to define the course of the draft. Just to be clear, this isn't what I think Seattle should do, but rather what I think they will do. Strap yourself in!
Serious Interest
FLA: Chris Driedger (G)
While it was rumored before today, it looked like Seattle has locked-in a starting/platoon goaltender. Since he was an unrestricted free agent from Florida, he will count against their expansion draft selection. 1 down, 29 more to go!
2. CHI: Nikita Zadorov (D)
I would rather have Calvin de Haan over Zadorov, but who am I? Zadorov checks the "physical" boxes (6'6″, 235 lbs) that GMs like to have on the blue line and there's this…
3. CAR: Jake Bean (D)
I really, really, really want them to take Nino Niederreiter here. Although, there's some serious rumblings about Jake Bean being the preferred choice for Ron Francis. Just look at his comps –
Now that we have a goaltender and 2 defensemen, let's move on to the obvious and easy choices.
No-Brainer Picks
4. CGY: Mark Giordano (D)
There's no need to beat a dead horse on this pick. Giordano is perfect captain material, plays 20+ minutes a night, boasts positives in offensive and defensive GAR/xGAR and has a manageable contract. He's your top pairing LD until further notice.
5. CBJ: Max Domi (C, LW)
Domi has had some problems finding his groove. He was traded from MTL to CBJ for Josh Anderson and then left exposed in the expansion draft. With the right pieces around him, he could really shine – Jack Han gets it:
6. BUF: Colin Miller (D)
This pick is indicative of just how few enticing options Buffalo has to offer. There is no way they take the bait on Jeff Skinner or Kyle Okposo. Maybe they fall in love with Girgensons? However, I doubt it. Miller gives you a third-pairing RD or trade bait.
7. DET: Troy Stecher (D)
Good right-handed defensemen are hard to come by and Stecher is well-rounded in oGAR (1.4) and dGAR (2.5). I could see SEA sniffing around Namestnikov and Svechnikov, but only Stecher gives you maximum value with the pick.
8. MTL: Brett Kulak (D)
You were probably expected a different no-brainer selection, but Carey Price makes too much money to even enter into this conversation. The same can be said for Shea Weber. Drouin didn't even play this season and while Byron is an analytics darling, his production isn't worth the contract (3.4m) given his age (32). If I'm Ron Francis, I'm working the phones with UFA Tomas Tatar and using that as my selection.
9. NSH: Nick Cousins (LW, C)
Cousins took a tiny step back this past season in defensive efficiency, but still had an overall GAR of 5, won more than 50% of faceoffs and outperformed his contract (1.5m) for the fourth consecutive year. Plug him into the 3C and forget it. Calle Jarnkrok will garner some attention, but his performance has been much more volatile throughout his career.
10. NYI: Jordan Eberle (RW)
Yes, I know that Eberle is going to be 31 years old and gets paid 5.5 million for the next 3 years. If you think you'll find a better deal in this expansion draft of a proven 1/2RW that makes under 7.5 million, I'll wait. The dude can generate offense and pairing him with Domi or Gourde wouldn't be fair.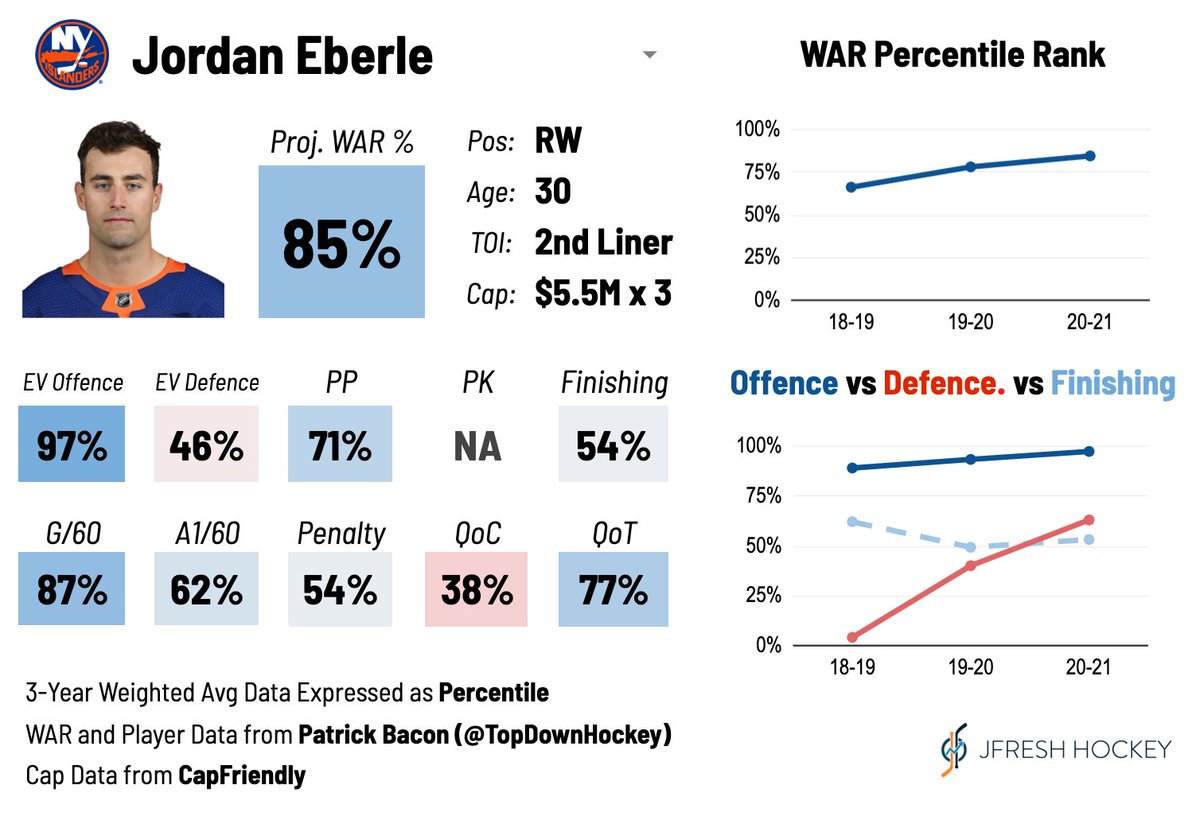 11. PIT: Jason Zucker (LW)
I had Marcus Pettersson slotted in this selection the past few days, but finding a bone fide top-6 LW in this entry draft necessitates taking the power forward Zucker. He had a bad year this past season and that should be concerning, but I'm willing to bet it was an anomaly. Since breaking into the NHL in 2014, he's only been a negative GAR player once. A change of scenery should help him rebound.
12. SJS: Ryan Donato (LW)
Here's your bottom-6 LW. Radim Simek is interesting, but there's just so many better left-handed defensemen available.
13. TBL: Yanni Gourde (C)
Here's your 1C. Set it and forget it.
14. TOR: Jared McCann (LW, C) Alexander Kerfoot (C)
McCann was a member of the Leafs for less than a week. The Leafs traded for him as insurance against losing Kerfoot. Why would Seattle want Kerfoot when there's a younger, cheaper and better version of him on the same roster? He has the ability to develop into a top-6 LW and cheap (2.94m) for another season. Then there's this potential news:
Now that we've covered the obvious and linked players, the next set of teams don't offer much in terms of value (right now), but could be a good way to build your future.
Can't Mess This Up
15. ARI: Christian Fischer (RW)?
I had Adin Hill locked-in as the 'Yotes pick for the past 2 months and then lo and behold they traded him to San Jose. Fisher played for Arizona this past season and I have no idea who half these guys are…
16. BOS: Jeremy Lauzon (D)?
This is a total crapshoot. Do they take a proven commodity in Kase or Ritchie or a prospect in Lauzon or Zboril? Maybe they grab a defensive forward and penalty-killing center in Curtis Lazar? I have no clue, maybe they sign Halak tomorrow to platoon with Driedger and spare us the drama.
17. COL: Joonas Donskoi (RW) or J.T. Compher (RW, C)
Colorado offers a couple of RWs, which one would you rather have?
| | | | | | | |
| --- | --- | --- | --- | --- | --- | --- |
| | oGAR | dGAR | xoGAR | xdGAR | PPO | SHD |
| Player X | 9.9 | -1.2 | 8.9 | -0.3 | 4.5 | -0.3 |
| Player Y | 5.1 | 0.3 | 5.2 | -0.3 | 1.9 | 0.2 |
Donskoi (X) offers much higher offensive upside with some defensive liability, while Compher (Y) is slightly better defensively and worse offensively. On special teams, Compher kills penalties but isn't much better at it than Donskoi. The only wildcard is contract and age, with Donskoi 3 years older and 400k more expensive. Pick your poison. Either way we've addressed one of our middle-6 RW holes.
18. DAL: Pass. This is bad. Fine…Let's take Nicholas Caamano (LW) and hope he develops.
Dallas dangled Ben Bishop, but honestly I'd rather have (*gasps*) Holtby based on his age (34) and contract (4.9m until 2023).
19. EDM: Tyler Benson (LW), maybe?
There's a lot of buzz surrounding Tyler Benson, but the Kraken could just as easily take Dominik Kahun. Benson hasn't played much at all in the NHL and Kahun has been a surprisingly good offensive player (xGAR of 5.3, 5.5 and 4 his past three seasons).
20. LAK: Any RFA with a pulse, like Carl Grundstrom (LW)
The Kings are offering very little in terms of value. I've plugged all of their exposed players into Evolving Hockey's Dashboard and they have 0 players with a positive overall GAR. As long as they don't take Olli Maatta, I don't think Seattle can go wrong with Brendan Lemieux (below replacement value), Andreas Athanasiou (good offensively, bad defensively) or Austin Wagner (average at best).
21. NJD: AHL Forward, like Nathan Bastian (RW)
Don't be lured by Subban or Will Butcher. Just take Merkley, Studenic, Gignac or Bastian and they'll play in the AHL next year.
22. NYR: Julien Gauthier (RW) or Colin Blackwell (C)?
The Rangers gave nothing up this expansion draft. Just take the AHL forward with a year left on their contract and be happy about it.
23. OTT: ???
Dadonov is a good scorer with a semi-reasonable contract (5m). Tierney is a decent bottom-6 center. Joshua Brown is a fine 6/7D. They also have some goaltenders (not Matt Murray) that would be interesting too.
24. VAN: Braden Holtby (G)
Full disclosure: I am a fan of Holtby, enough so that I have his sweater (and I only have 5 total in my collection). Ever since Mitch Koran left the Caps, Holtby just hasn't been the same. But somehow the Canucks don't really have anything else remotely enticing. He is only under contract for 1 more season and would be a serviceable 1B to serve with Driedger.
So for those of you keeping score:
| | | |
| --- | --- | --- |
| Zucker (PIT) | Gourde (TBL) | Eberle (NYI) |
| | Domi (CBJ) | Donskoi (COL) |
| | Kerfoot (TOR) | |
| Donato (SJS) | Cousins (NSH) | Fisher (ARI) |
| Benson (EDM) | | Bastian (NJD) |
| Grundstrom (LAK) | | Gauthier (NYR) |
| Caamano (DAL) | | |
NHL Forwards are bold
| | |
| --- | --- |
| Giordano (CGY) | Stetcher (DET) |
| Zadorov (CHI) | |
| | Miller (BUF) |
| Lauzon (BOS) | |
NHL Defense in bold
Driedger (FLA)
Holtby (VAN)
NHL Goaltenders are bold
Just to recap: After sourcing all the confirmed, obvious and obscure selections, we're down to the final-8 teams. We still need a top-6 LW, a middle-6 RW, at least 1 more RD/LD and a goaltender. Fortunately (or unfortunately), there's a multitude of solutions to this Rubik's cube.
¯\_(ツ)_/¯
25. ANA: Kevin Shattenkirk (D) or Haydn Fleury (D)?
Henrique might be tempting, especially with scarcity at the center position. However, we got the position well-covered. I personally think Shattenkirk would be a safer selection. He is $2 million cheaper, contract expires a year earlier and is a good bottom-4 right-handed defensemen, which we do need. If they are thinking longer term, Haydn Fleury could be a future starter.
26. MIN: Kaapo Kahkonen (G) or Carson Soucy (LD)?
There's an argument to be made for taking Victor Rask/Nick Njugstad (weak center options), Carson Soucy (6.5 GAR), or Kaapo Kahkonen. Kahkonen would be a goalie in the mix next season after Holtby is a free agent or traded at the deadline. I'll circle back to this one later because the main event is…
27. PHI: OMG JVR (LW)
Philly offers some of the most intriguing options. Jakub Voraceck is still an elite playmaker. James van Riemsdyk is slightly cheaper (1.25m) with one less year on his contract. Shayne Gostisbehere could use a change of scenery and has top-4 star potential. Not to jump too far ahead of myself, but if the rumors of a pick-and-trade of Tarasenko are real, this makes this selection even more interesting. I'm not going to try and predict trades and take the highest priority position: LW.
28. STL: Vladimir Tarasenko (RW) or Vince Dunn (D)?
I'm agonizing over this selection because it is much harder than it looks. If Tarasenko wasn't coming off 2 straight injury-plagued seasons, this wouldn't be a choice at all (probably because he would have been protected). If I'm Seattle, I'm thoroughly vetting his injury history and if it looks clear, run the card to the (metaphorical) stage. Prior to the past 2 seasons, his GAR was 22.7, 13.6, 13.2, 13.9 and 10.9. If there's question marks, Vince Dunn is a good consolation prize. He took a huge step backwards in offensive production this past season, but is still young (24) and worth a shot to rebound. Keep an eye on UFA Jaden Schwartz, if they sign him – and they could use a LW – this is all moot.
29. WSH: Conor Sheary (LW) or Nick Jensen (D)?
Nick Jenson has been criminally undervalued by the Caps and would give SEA some real options at right defense, including a trade. Sheary is a very cheap bottom-3 LW locked in for the next 2 seasons.
30. WPG: Mason Appleton (RW) or Dylan DeMelo (D)?
See above. Dylan DeMelo is the truth and well-rounded right-handed defensemen are a valuable commodity. I could see them going either way here, but I would be shocked to see both Jensen and DeMelo taken, unless they have a buyer lined up.
So here's my final predictions:
| | | |
| --- | --- | --- |
| Zucker (PIT) | Gourde (TBL) | Eberle (NYI) |
| JVR (PHI) | Domi (CBJ)* | Tarasenko (STL)* |
| Sheary (WSH) | Kerfoot (TOR) | Donskoi (COL) |
| Donato (SJS) | Cousins (NSH) | Fisher (ARI) |
| Benson (EDM) | | Bastian (NJD) |
| Grundstrom (LAK) | | Gauthier (NYR) |
| Caamano (DAL) | | |
NHL Forwards are bold
*Trade Bait
| | |
| --- | --- |
| Giordano (CGY) | DeMelo (WPG) |
| Zadorov (CHI) | Stetcher (DET) |
| Kulak (MTL) | Miller (BUF)* |
| Lauzon (BOS) | Shattenkirk (ANA) |
| | Brown (OTT)* |
NHL Defense in bold
*Trade Bait
Driedger (FLA)
Holtby (VAN)
Kahkonen (MIN)
NHL Goaltenders are bold
This roster is barely cap compliant with only $83,334 dollars to spare. They could easily clear $10 million in cap with a few simple trades and their RFAs (Benson, Donato, Caamano, Bean and Zadorov) aren't going to be super pricey to re-sign. Tarasenko, just to name one, is a luxury pick that should draw quite a bit of attention. If you think this team looks dangerous already, don't forget they have the #2 overall pick in the 2021 NHL draft. They should be able to land Matthew Beniers or William Eklund, which would boost the center spot and provide some insurance if Domi doesn't work out.